About Baghchal
Baghchal / बाघ चाल ?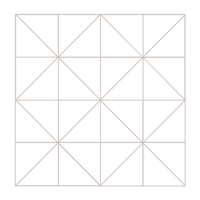 Bagh Chal / Tiger & Goats / Moving Tigers is one of the most popular two player strategic board game originating in Nepal. The game is asymmetric in that one player controls four tigers and the other player controls up to twenty goats/goti/bakhra. The tigers 'hunt' the goats while the goats attempt to block the tigers' movements. Bagh in Nepali means tiger, and chal means move, you could translate it as the game where Tigers are moved in the game board.
One of the primary reason for its popularity in Nepal is its ease of game construction. Grab a stone, draw lines in square like in the figure. Collect 4 big stones, name them Bagh, collect 20 small stones, call them goats, find a partner to play and enjoy. Also, game rules are easy and game logic is easier compared to other popular game like Chess.
There is nothing like playing Baghchal with friends enjoying the warm winter or passing free time in strategic way. The game is equally popular among teens and aged ones.
Why Online Baghchal ?
You won't be always in reach of a Baghchal board, stones for Bagh and Goti, sometimes no other person would be there to play with. Respecting the fact that Baghchal is more enjoyed while played at Chautaris of Baglung district or at the Garden of Dreams at Kesharmahal we Semicolon Developers have tried to make it easy to play Baghchal with having just an Internet access irrespective of the location. With Online Baghchal, one can invite her friends from anywhere to play Baghchal or meet other Baghchal lovers near her location. We want to provide you a website to visit for enjoying Baghchal online with your friends.
It's easier now to play Baghchal online. Just singup in the Online Baghchal website with your email address. Each Baghchal match is called a game in the application. You can create game selecting your preferences for playing Bagh or Goti. You then wait for other player to join in or you could share the game URL with your friends via email and social networking websites like Google+, Twitter, Facebook. Also, it is easy to join in the games created by other players.
We enjoy playing Baghchal at Semicolon Developers. We felt it is our responsibility to digitize the local cultural assets like this. It took us one complete year to go from the "online baghchal" idea to first working copy of Baghchal application. The technology stack we used for Baghchal have never been implemented this way in Nepali web development scenario. Making the game play a fun online real-time experience was a lot of work. We have done a fairly hard work from our side on presenting Baghchal game online. Hope you'd enjoy it. Your feedback will always motivate us.
To know more about technical implementation of Online Baghchal visit our Blog